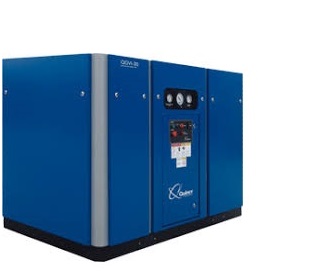 Quincy QGF Series (7.5-30KW)
Quincy Screw Compressor
QGFV PM Series (11-75KW)
·11KW~75KW
·1.70 m3/min~12.8 m3/min @8Bar
Typical Features of QGFV PM Series Products
Modular design saves space, reduces pipe connection,pressure drop loss and leakage risk.

Stable and reliable load-unload inlet valves pass the endurance test of 2.5 million cycles.

Bigger cooler is used to increase heat exchange area. Keep the cooler upright to the benefit of repair and cleaning.

The wholly new compressor element is specially designed for the width adjustable speed range of the, permanent magnet technology. There is no resonance and frequency hopping at full rotation speed range, that is the real full variable speed control..

Split drive system is more stable, more mature and more convenient for maintenance.

Closed-loop frequency conversion control system is able to quickly respond to pressure change of system, maintain stable pressure for the system and effectively save energy.

Standard configuration of 7-inch all touch controller provides real time message transmission and realizes big data management.