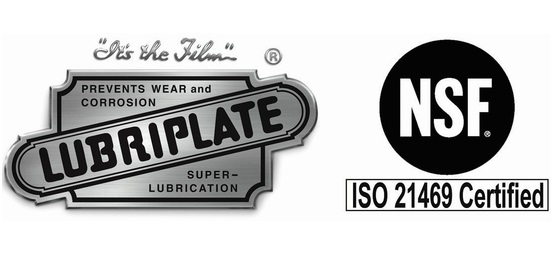 Food Machinery Lubricants
Food Grade Lubricant Products
Lubriplate's complete line of high-performance, NSF H1 registered food grade lubricants are designed to provide complete food processing and bottling plant lubrication capability. Manufactured in compliance with strict ISO 21469 and ISO 9001 registered quality assurance standards, our line of food grade lubricants are formulated from the highest quality base stocks. Engineered with state-of-the-art anti-wear additives, our lubricants also deliver numerous cost effective advantages. All Lubriplate products are manufactured with ingredients that are safe in the event of incidental food contact and comply with FDA regulation 21 CFR 178.3570. They also meet USDA H1 safety standards and are authorized for use in federally inspected meat and poultry plants.




Lubriplate food standard industrial grease is always the top choice of engineers and experts when choosing to buy food standard lubricating grease.
LUBRIPLATE is recommended by leading equipment manufacturers such as ANGELUS, TETRAPAK, KRONES, KHS, HUSKY, SIDEL, SEW ... with the trust of many customers such as PEPSI, COCA COLA, AMWAY,..
Food Grade Lubricants
Synthetic Lubricants
Synthetic, High Temperature Oven Chain Lubricant
Synthetic Grease
USP Mineral Oil-Based Oils
USP White Food Grade Pan Divider Oils
URP Mineral Oil-Based Food Grade Greases
Flushing and Cleansing Fluid/Oil