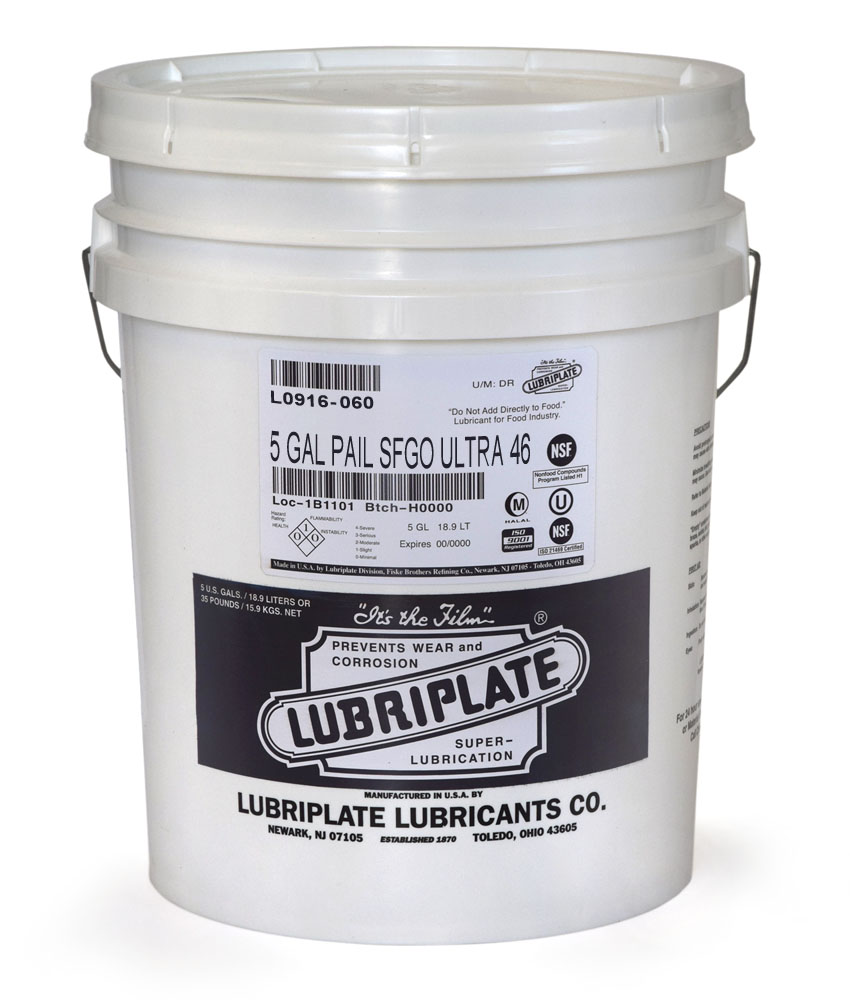 LUBRIPLATE SFGO Ultra 46 - Food Grade NSF H1, Halal, Kosher
SFGO Ultra 46
ISO Grade 46, Polyalphaolefin (PAO)-Based Synthetic oil
Product Highlights
Excellent thermal stability resulting in longer service life

Superior oxidation resistance

Outstanding anti-wear properties providing extended equipment life



Lubriplate is America's leader in food standard grease market share thanks to very competitive prices and perfect quality, with full certifications for HACCP, GMP, NSF H1, Halal, Kosher, USDA...
Overview
The LUBRIPLATE SFGO Ultra Series of synthetic hydrocarbon food grade fluids have been formulated with 100% pure PAO synthetic base oils that meet a variety of demanding applications where traditional white mineral oils and PAO polymer blends may not be desirable.
These Polyalphaolefin (PAO) based synthetics are outstanding lubricants for use under severe conditions subject to extremely high or low temperatures. They exhibit outstanding oxidation resistance and thermal stability capabilities.
These fluids are all zinc-free. The LUBRIPLATE SFGO Ultra Series meets the requirements of FDA 21 CFR 178.3570 and FDA 21 CFR 172.882. All six-viscosity grades are suitable for use in plants where incidental contact with the edible product may occur.
The LUBRIPLATE SFGO Ultra Series may be recommended for rotary screw, rotary vane and reciprocating air compressors. They also make excellent lubricants for hydraulic systems, pumps, motors, bearings, chains and airline lubricators.




For more information: https://www.lubriplate.com/Products/Fluid/SFGO-Ultra-Series/SFGO-ULTRA-46/SFGO-ULTRA-46/